Cheeky Chooks
Welcome to Cheeky Chooks 2.0!
---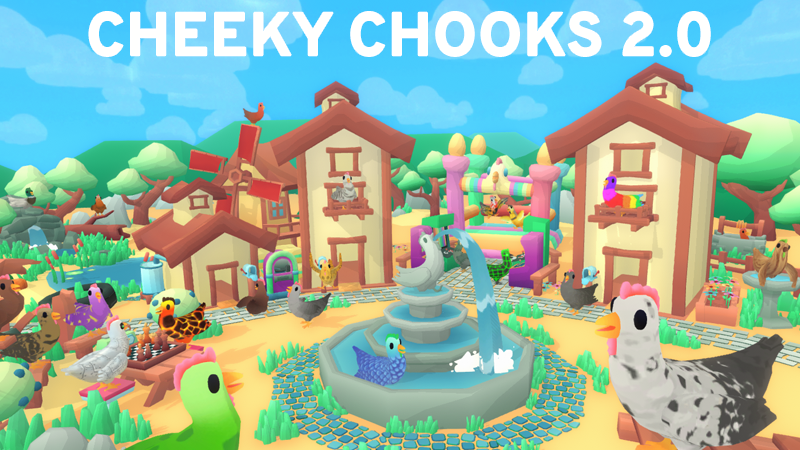 TLDR? Read the bullet pointed changelog HERE.
If you prefer to R the TLDR's then pull up a perch, because this is the BIGGEST update to Cheeky yet.


So whats the deal with this Cheeky Chooks anyway?
The original Cheeky was made as a prototype for a piece of edutainment to teach kids about being cool to animals. As we got to the end of development we thought it was pretty cool so went ahead and released it onto Itch.io, hoping a couple of people might play it and give us some feedback. We woke up to a tonne of comments, and youtube videos and.. just wow.
Since then we have released onto Steam and Android and the few people has grown to over 150,000! Did I say wow? Wow.
At the same time the game as far as we were concerned was unfinished, so with this update we wanted to go back and recreate a lot of things from scratch, and take the time to make it more of the game we envisioned. This update doesn't include a tonne of new content, rather than a massive quality of life and face lift for the existing game.
Almost every system has been rewritten from the ground up, resulting in a more optimised, performant and graphically superior Cheeky, with much better cross platform support. We have also overhauled the aesthetics, music and sound effects. But most importantly we have built a really good foundation for where we would like to take Cheeky Chooks in the future.
SO WHATS FRESH IN CHOOKLAND?!?
Support for Apple Devices
Oh gosh, it's actually happening.. The long awaited and promised Mac and iOS versions of Cheeky Chooks is here! You can now play Cheeky Chooks on your Apple desktop, iPhone, or tablet devices.
Sincerest Apple-ogies to everyone waiting so long on this!
Multiple Saves / Save Optimisation
Players can now have multiple farms, with up to four save slots available. Along with an overhaul and optimisation of the save system means smaller file sizes, faster saving and loading.
Note: Returning players will be prompted to convert their saves into the new format, after which they will find their farms in Slot 1 after pressing Play on the main menu.
Graphical Update
The lighting model has been updated to allow for smoother shadows with more depth, while retaining that classic Cheeky charm. The new model also allows us to add more lights in scenes (so look forward to new items like lamps or torches in future updates). We have also added Post Process effects such as Ambient Occlusion, Bloom, and Tilt Shift.
Graphics Options
Options have been added to both the main menu and in game to tweak graphics, including advanced options such as toggling specific post effects or shadows. These have been included on PC and Phone versions, and should help players on either platform optimise their experience.
Events
Events such as the Pumpkin Smash and Hat Find have been reworked, they are much less invasive, have their own unique interface and music, and can be exited at any time. We plan on adding some more events to add a bit more variety soon!
New Tutorial and the Chook Journal
We completely changed the tutorial and start of the game, hopefully to be much clearer, and more concise. We also added a Chook Journal, found on the bottom right hand menu. The Chook Journal stores any tutorials, tips, or chook facts for you to review at any point.
Music
Instead of playing the same track on a loop, we created several new pieces of music that now play contextually, with different tunes that will play at different times of day or during events. We hope this lends itself better to the chill atmosphere of the game, and leads to less people turning off the music.
Seriously, give it a listen, it's pretty swell.
SFX
Previously our sound effects were really just mish mashed looping tracks that play louder the closer the camera got. With the addition of a perspective camera we also wanted to add proper 3d sound effects. We created a few environmental and building based sounds, and new Chook sounds that actually come from the Chooks. That's right people, the Chooks are coming at you in STEREO!
Expanded Camera Options
The Camera icon can now be toggled between isometric (classic Cheeky/no depth) and perspective (just like real life! whoa...), as well as a top down view when you want to get really particular with building placement.
Moving and Interacting with the Farm
Moving and rotating the camera is now easier, with less accidental clicking of buildings. Zooming is much smoother, and allows you to zoom in further (especially in perspective mode).
You can now click and drag the mouse as long as you like, instead of hitting the sides of the screen and needing to click again. Moving objects is also much simpler, click the object once to bring up it's wheel menu, from which you can upgrade, sell, move or rotate the object. You can click either the move icon or the object itself.
UI Overhaul
We redesigned the UI systems from the ground up, with a neater and more readable interface overall. Our new UI now works much better across different resolutions and platforms, from desktop monitors in 16:9 to tablets in 4:3 we have you covered!
Along with this the aesthetic has been generally tweaked, and many menus and screens redesigned to be more readable and usable. This has also fixed many clipping and general UI issues or bugs, making Cheeky a lot easier to navigate in general.
So many chooks...
We would like to give a massive shout out to the incredible community that formed around Cheeky. We have been inundated with positive reviews and feedback, videos, streams, fan art, and countless creative farm screenshots. We have also had some incredible people in our Discord who spent countless hours breaking every beta and dream we ever had.
Seriously, thanks for all the eggs you beautiful people.
We really hope you dig Cheeky Chooks 2.0.
Comments
Log in with itch.io to leave a comment.
awesome! I bumped you up on the fresh games section on the itch.io homepage
Ohhh thanks for the bump! Also for making this site, creating content and publishing on itch.io is so dang simple and pleasant. Its almost as if you WANT us to upload our games here, and its seriously appreciated.